Realworld EE: Predictive Maintenance solutions can increase the profitability of manufacturing companies
Maintenance Connection, a scalable enterprise asset management platform, delivers typical annual benefits of $3.4M*
Annually, approximately $8 billion are lost globally in the manufacturing industry alone due to equipment downtime.
Bucharest, 27 July 2022 – More than 56% of companies continue to operate in a reactive mode instead of employing a predictive maintenance approach which translates to a  global loss of 8 billion USD annually, according to estimates by Realworld Eastern Europe, a software solutions integration company, part of the Dutch holding company Realworld Systems.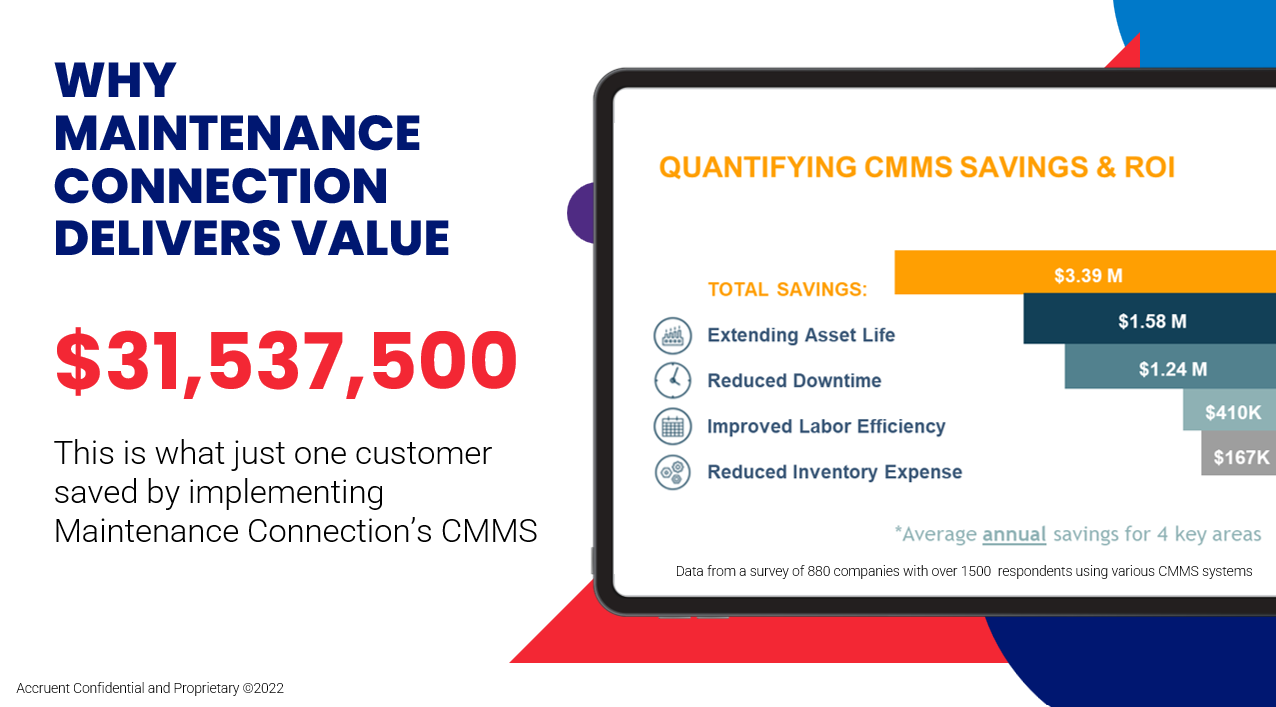 Reducing the number of failures, simultaneously with decreasing intervention time, as well as the adoption of real-time data collection technologies are key aspects of maintenance. Therefore, the global Predictive Maintenance market is estimated to reach 6.3 billion USD this year and continues to grow at a sustained pace, according to a report by Market Research Future**.
Predictive Maintenance, which has the ability to use data analytics to optimise equipment maintenance and improve aging industrial infrastructure, is estimated to be used by 83% of manufacturing companies in the next two years. Predictive maintenance in factories could reduce costs by 12%, improve uptime by 9%, reduce health and safety (H&S) risks by 14% and extend the life of an aging asset by 20%, according to a PWC report **.
A solution developed by Accruent, part of the Realworld Eastern Europe portfolio, is Maintenance Connection, a computerised maintenance management system (CMMS) that reduces equipment downtime, can prevent breakdowns, and streamline the processes of interventions and overhauls, thus managing, at a complex level, maintenance of the companies' equipment.
"Maintenance Connection is a flexible, intuitive, scalable enterprise equipment management platform designed to help maintenance professionals gain insight into the equipment lifecycle. The benefits are related to extending the life of assets, reducing downtime, improving productivity, and lowering expenses related to equipment inventory. Practically, by implementing Maintenance Connection, productivity is maximised, ensuring a return on the investment in less than 12 months", said Bogdan Hebean, Managing Director of Realworld Eastern Europe.
The solution has applicability in a variety of industries such as manufacturing, energy, and pharmaceutical, but also for hospitals, airports, and other entities that own critical equipment.
Realworld EE's solution is implemented by companies such as Bayer, L'Oreal, Nissan, Saint Gobain, Delta, Valvoline, Volvo, Siemens, GAP, and Nordstrom with a 98% success rate (subscription usage and renewal rate) and easily integrates into companies' software architecture.
Moreover, the large number of companies gradually adopting Preventive Maintenance solutions is proven by the size of the global predictive maintenance market which is estimated to reach over 62.5 billion euros by 2030*.
* Average annual benefits achieved according to an analysis of 880 companies using CMMS
**Sources
https://www.researchandmarkets.com/reports/5403213/predictive-maintenance-market-by-component-by
https://www.pwc.be/en/documents/20180926-pdm40-beyond-the-hype-report.pdf
https://www.gartner.com/reviews/market/enterprise-asset-management-software/vendor/accruent/product/maintenance-connection-eam/review/view/4208408#product-capabilities
###
About Realworld Eastern Europe
Realworld Eastern Europe, a company founded in 1998, is part of the Dutch-holding Realworld Systems, with a presence in the Netherlands, Great Britain, Germany, Hungary, Romania, South Africa, Indonesia, Australia, and the USA.
The company provides professional services and GIS solutions for organisations that develop and operate networks and infrastructures for geographically distributed public services, such as telecommunications, water supply and sewerage, electricity and gas transport, and distribution. In addition, the company develops and delivers maintenance management and digitalisation solutions.
Some of the main benefits brought by Realworld Eastern Europe are the speed of reaction and offering solutions focused on the specific problems of each individual client. The company also stands out as a long-term partner for the clients it works with, offering stability and a deep understanding of their challenges.
Realworld Eastern Europe has a team of consultants with over 20 years of experience in the acquisition and processing of geospatial data, as well as in the development and implementation of GIS solutions for clients around the world.