Digitalization of Promissory Notes Submission
Situation
New technological developments are exerting competitive pressure on banks, demanding more efficient and convenient online services. You most probably need to react to the changes in your customer behavior, to keep up as well.
Lately there was a significant impact on digital transformation, creating a direct need for you, as a financial institute, to communicate with your customers through digital channels, such as platforms and apps. It's not a novelty that the number of digital users has increased globally by 23% in the last 2 years and it's still growing.
Convenience and, above all, user-friendliness seem to be behind the success, as customers appreciate being able to access all their financial services via mobile devices. And the simpler to use, the better.
Generally, promissory notes (PN) represent an alternative to traditional bank loans. These debt instruments are being used frequently on the local market between legal entities. Although the process is still under bureaucracy, a new legal context will allow you to process the PNs in a digital manner.
Challenges
Manual work and human error leave agents having to check PNs in bulk when the customer has brought them at the bank. Afterwards, a 2nd review is made by the reporting back-office team to check and correct the errors, catching only part of the PNs.
What should be noted is that this is done for thousands of PNs each month.
Solution
Our aim is to create a digital opportunity for the bank's customers, by scanning the original PNs directly into the app, through a secure digital channel. Thus, we decrease the visits to bank branches and front-end representatives gain more time.
We've integrated the intelligent automation platform with an OCR system and the mobile banking application. When customers fill in a PN, instead of going to the bank to submit it, they can scan it directly into the app. Then, the system validates it. If something is wrong with the PN, the app will not accept it, requesting a scan of a new and correct PN.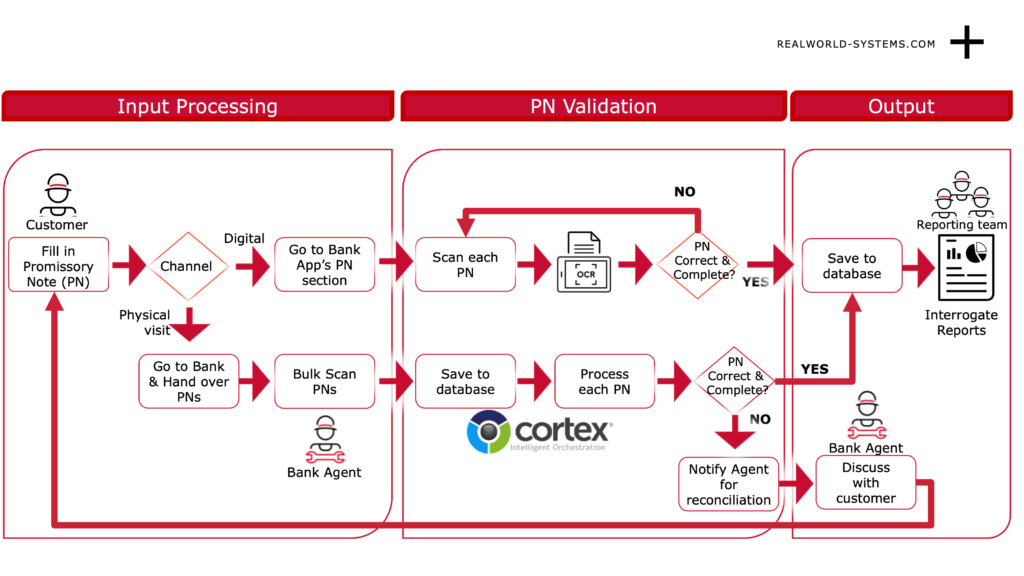 We also optimized the existing flow as well, customers still having the option to leave PNs in a bank branch. When the customer submits the PNs in bulk, the agent skips the manual validation step, and scans them directly. Our solution checks for errors & alerts the bank agent for any incomplete or incorrect PN.
Furthermore, a reporting dashboard was created, to have a complete overview of scanned PNs, as bank branches are processing thousands of them each month.
Outcomes
For the bank's customers:
Decreased the time and costs spent on bringing the PNs to the bank
Increased customer experience, offering a transparent digital alternative
Own control on their PN's status – realtime reporting
For the bank:
Saving 100h monthly of manual processing: agents can focus on customer relationship and the reporting team can work on other tasks
Decreased human error, by having a digital solution validating the hand-written PNs
Optimized End2End PN processing flow
Enhanced Customer Experience
Enriched Customer Trust & Loyalty
Reduced Human Error
Optimized End2End Workflow
Increased Team Performance
Full Audit Trail for Governance & Compliance
Reduced Operational Time
START YOUR INTELLIGENT AUTOMATION JOURNEY TODAY!