Get Automated,
Stay Automated
Cortex evolves you to Zero-Touch Autonomous Operations.
Cortex Intelligent Automation
and Orchestration Software
Cortex mission is to create a world where everyone can automate, and transform their operations through man machine collaboration.

Cortex has over three decades of 'know-how' and deep domain knowledge across IT and Shared Business Services, Telecommunications, Banking, Financial Services, and Insurance (BFSI). Shared Business Services, ITOPs and AIOPs, HR, Finance, and Logistics can all be evolved into autonomous processes and service.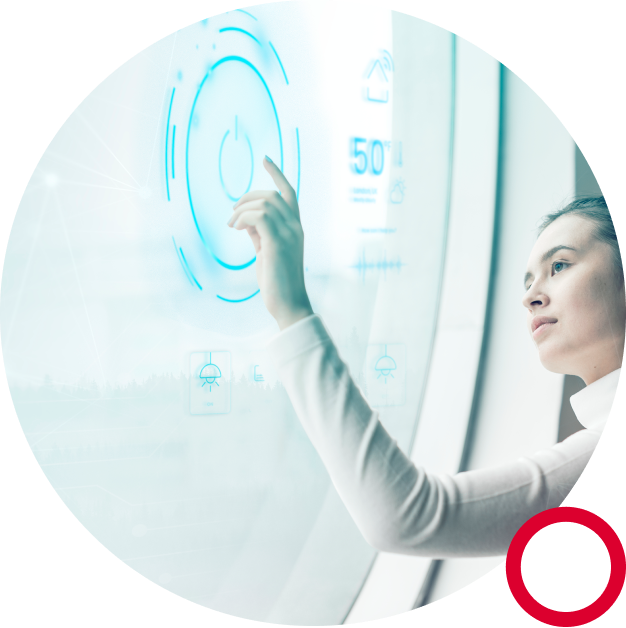 Cortex Intelligent Automation software transforms your organisation 
into a high velocity, service-centric environment 
through digitalisation, automation and orchestration.
Intelligent Automation allows you to realize the benefits of
enabling automated zero-touch operations whilst retaining
strategic control and management.

Understand
the need

Validated approach
Analyse
and Design

AS-IS & TO-BE/Plan

Deliver iterative
and incremental

Solution delivered

Hand-over
and Support

Solution stabilised
Benefits of

intelligent automation

Efficient Delivery Methodology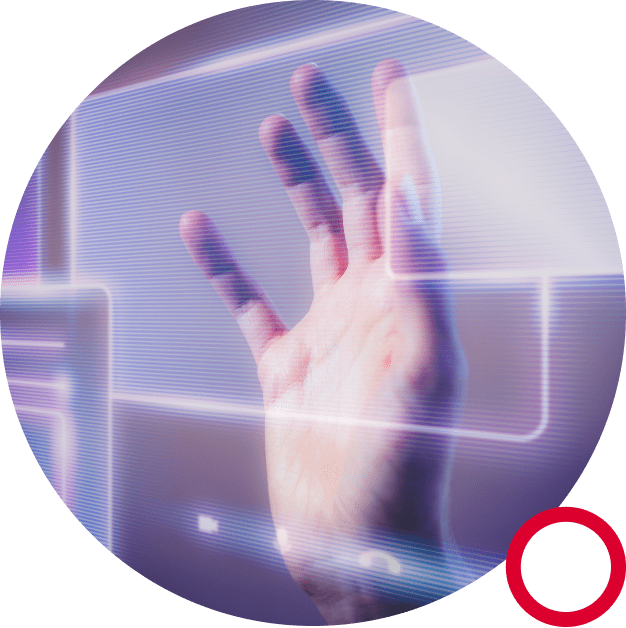 Understanding Automation –
Terminology and Capabilities
Defining your Vision of Digital Operations
with Primary Focus on Business Process
and Desired Outcomes
Deliver solution in an iterative,
incremental, and flexible manner
Hand-over and facilitate adoption of the
new automated process
What industries does

Cortex service?

Banking and
Financial Services


Telecommunications
Services

ITOps, AIOps and
Enterprise Services
Cortex Management
Automation
Process Optimization
of Scheduled Works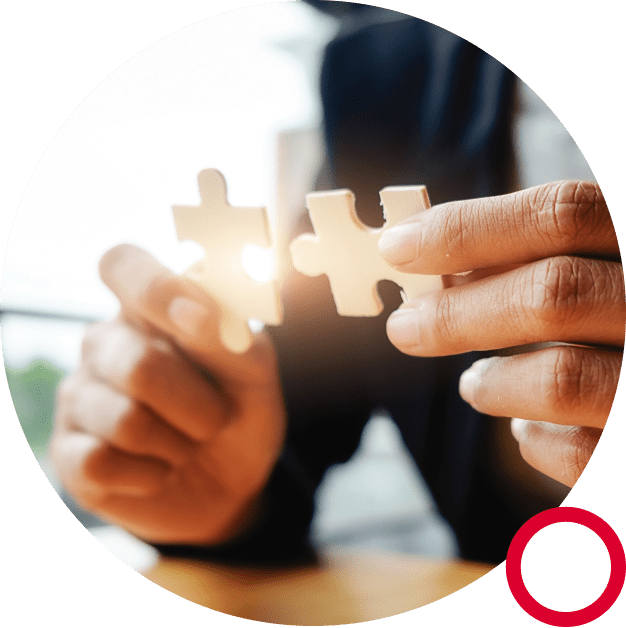 The client, the Change Management Team from Tier 1 Telco operator, is responsible for manual verification of scheduled works (SWs) on network transport equipment that include lists of impacted sites and corporate
customers.

Tracking of planned work is done in a ticketing system and for each scheduled work, the impact is manually extracted from SmallWorld (NICM) and added as an attachment in the ticket by the technician's team.

After this takes place, the Change Management team checks the scheduled work's attachment in scope of processing.

According to the type of planned work, they further check protection and extract lists of NodeB and B2B clients from SmallWorld (NICM). With this as input, they extract impacted areas and client's SIMs in other systems, end result being to notify interested departments and corporate clients.

This process is required daily, for any planned work, and is liable to human error due to its manual handling. Time spent on each received planned work takes between 15 minutes to 2 hours and the Change Management team receive an average of 25 SWs per day.

This means a weekly average of about over 94 working hours or 12 working days.

The scope of the process is to maximize network availability and maintain the relationship with the existing enterprise customers. If the work impacts any service provided to the end customer, then the latter is notified in advance.
Difficulty of the Change Management team's daily work comes with the fact that the each scheduled work received they have to analyze the possible impact and to deep-dive in SmallWorld (NICM) for each network element. The planned work is done on the PNI and the team performs all the required checks in SmallWorld (NICM) LNI.

Other challenges that they have to overcome:
Undocumented end-to-end flow
Manual triggered process
Multitude of undocumented business rules
Manually deleting unrequired information in an over 1,000 rows excel attachment
The process is liable to human error due to manual handling
By considering SmallWorld (NICM) a single source regarding the operator's logical and physical network topology, the system was selected to extract the customer impact for each planned work. On top of that, Cortex Intelligent Automation orchestrated the end2end flow, and DTS (Data Transit System) facilitated the communication between the systems.

The key to the successful deployment of automating the Change Management's verification and notifications of scheduled works is the strategy and methodology. Firstly, defining the vision of what the automated operations will be, assessing the current processes, and determining how to achieve this.

Taking an agile approach, we enabled the assessment of current processes, systems, and required integrations which feed into the design of the automated digital operations. The automation flows were optimised to remove obsolete steps and perform the repetitive steps delivering machine speed automated operations.

SmallWorld, via DTS, and Cortex Intelligent Automation has been enhanced to achieve maximum availability and minimize network incidents due to planned works.

As input parameters we used routers, OLT/GPON, switches, client and equipment circuits in order to extract B2B and NodeB clients from SmallWorld (NICM).
Cortex " DTS: Cortex interacts with DTS through a REST API to identify specific customers and also to check for network redundancies in Smallworld NICM.

DTS
DTS – CORE: DTS Core deployment that handles request dispatching, load balancing, endpoint orchestration, automated scaling and also offers UI tools to interact with the system.
DTS – SW: Smallworld-native agent for the DTS platform, tasked with extracting data, invoking routines and collating metadata. Also known as the DTS Smallworld Connector.
DTS – WS: DTS Client API Implementation that exposes DTS operations as REST API.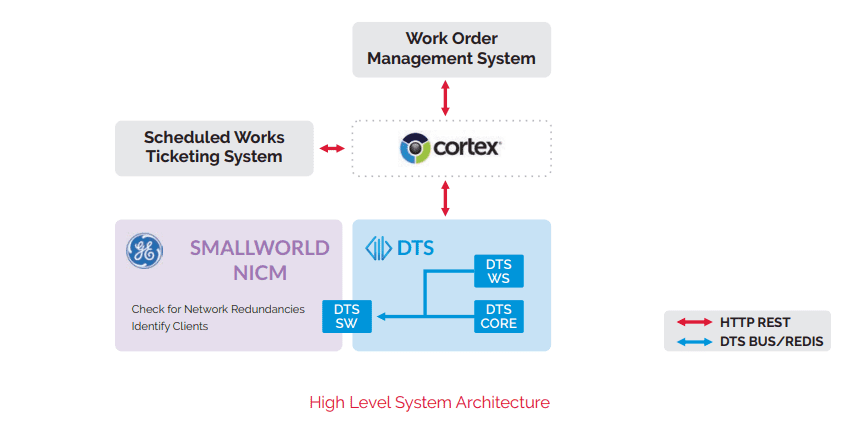 The enhancement made on SmallWorld (NICM) solution, along with Cortex Intelligent Automation and DTS enables dynamic digital operations, releasing them from repetitive, manual and human error work to higher value operations.

The project, as a collaboration between RealWorld Systems and enablers, SmallWorld (NICM) as platform and Tier 1 Telco operator as end user, generated:


Automation, Orchestration and Optimised E2E Flows
90%-time reduction for processing scheduled works
Immediate notification of impacted stakeholders of scheduled works
CM team available to focus on higher value job functions
Automated a minimum of 12 working days/week of Level 1 manual processing
The Realworld Eastern Europe team has successfully implemented an Automation solution that has ticked all the boxes of efficiency and reduction of repetitive tasks in the team. During the collaboration, the project team was noted for its proactive, results-oriented attitude and for its detailed understanding of our needs, but especially for proposing a solution that benefits businesses as a whole, and in particular for our customers and technical support colleagues,
In Orange Romania we are quite advanced in the automation journey (CI/CD, IaC, intelligent operations, etc), however, we consider it key to accelerate even more the automation of our end-to-end process. Cortex and Real World are one of our main partners in this automation journey, proposing the strategies, methods and technology that will make this journey a success. After less than 3 months, we are starting to see the results and they are quite impressive!" Horia Ștefănescu, Head of IT Operations, Orange Romania.
Automation is a central point inside the IT operations Strategy, as part of our digital transformation, with great focus and commitment from all the involved parties. We believe that through intelligent automation we can achieve our goal to deliver reliable and seamless services to our customers. Besides the tool, which is also important, we needed partners who can support us through the automation journey and empower us with the right methodologies in order to implement automation efficiently and timely.

Together with Realworld Systems and Cortex, we can achieve our goal to implement intelligent automation by using the best combination between the tool and mindset.